Watching bumblebees prepare for autumn. (c) Kim M. Bennett, 2013
What's New This Month:
My eldest son. Plant Guy, calls me (hands-free, of course) every day when he's on his way home from work. I, in return, answer his call (also hands-free, of course) and we chat about our day on the long ride home.
Yesterday, I happened to remark, out loud, how the trees here in Connecticut were suddenly putting on their fall attire. Plant Guy remarked, "Yeah, it's going to be October next week. I can't fool myself into believing that it's still summer anymore."
No, the sassafras are purple-red, the fields are ablaze with wild asters and goldenrod, and sunflowers are covered with birds fattening up for winter or a long trip to their winter home. It is, indeed, fall here.
We have been having fun in the fall weather, though:
Roasted Vegetable Salsa. (c) Kim M. Bennett, 2013
Canning
I have put up several different kinds of salsa and hot sauce, dilly beans and some hot pepper pickles. The last of the green tomatoes went into
ajo
, an Ecuadoran version of
sofrito
, a delicious paste made from garlic, peppers and other wonders that gets sauteed in oil before you cook anything. Mmm--mmm-good.
Garden bounty. (c) Kim M. Bennett, 2013
Gardening
Summer vegetables were pulled up and replaced with fall lettuces, peas and collard greens. We'll have to cover the lettuces, and the peas will be done by frost, but the collards will be a wonderful (and bug-free) treat next spring.
We had a bumper crop of hot peppers and pole beans this year. Our corn was a little disappointing - but we learn!
Roasting vegetables - the key to so many tasty sauces. (c) Kim M. Bennett 2013
Cooking
Changing jobs sometimes means changing finances, and I have rediscovered the economical (and tasty) joys of homecooked meals each night. It's easy to take short cuts when you have more disposable income, but what wonders you can create in the kitchen with a little creativity and simple ingredients. My latest successes: white bean and chicken chili; gumbo; taco casserole; shrimp and broccoli eggrolls; and the world's sweetest pink lemonade cookie bars.
Whimsy in a butterfly and hummingbird garden. (c) Kim M. Bennett, 2013
New Job!
I started a new job (which I LOVE!) as an instructional coach for science, technology, engineering and math. One of the best parts of my job is the organic courtyard garden where students grow vegetables that the chef uses in student and teacher lunches each day. How delicious!
Roman gladiator puppets - a fun extension of our history work. (c) Kim M. Bennett, 2013
Homeschooling
Each year, we exercise our rights to partake of as little or as much of the public school activities that we have paid for, as we'd like. Last year, our Little Guy attended all of grade 4 in public school. He has given himself an early October deadline for determining what he'd like to do about public school this year. He is leaning toward participating in band, music lessons (trombone & saxophone), chorus and some "specials," and leaving the subjects to home.
A little sand, surf and sunshine goes a long way. (c) Kim M. Bennett, 2013
Healing
My husband and I have been invited to participate in an event honoring breast cancer survivors and their families, in Hartford -- an honor, and always an emotional time.
I'm trying to get back in the gym routine. But relaxing on the beach is much more fun!
Up-cycling old magazines into beautiful jewelry. (c) Kim M. Bennettt, 2013
Crafting
I have made LOTS of my paper-bead necklaces, and am trying to find some time to set up my Etsy shoppe (or something similar). They are beautiful!
I have continued to use magazines, but have branched out to include some junk mail, and catalogs. It is a very meditative process, rolling paper beads. You should try it -- very relaxing...
I want to try paper-pulp round beads (like papier-mache), brown paper bag beads, wrapping paper beads and tissue paper beads. So many bead ideas, so little time!
Katydid love songs. (c) Kim M. Bennett, 2013
Hanging With Bugs
We have an influx of katydids this fall. They love to hang out on our front door screen and scream in the evening. I guess it's a love song, but it is one of the loudest noises I've heard at night. They are very interesting, with their long legs.
Plant Guy's farmer girlfriend harvested her celery and discovered dozens of yellow swallowtail caterpillars. Yey!
Goodbye, Alfred D. "Pete" Long. (c) Kim M. Bennett, 2013
Saying Goodbyes
My brother-in-law, Pete, passed away in our arms early this month. It was a beautiful passing, Pete surrounded by all of his family and friends, at home. And his homegoing was an event to be celebrated - complete with a jazz band, a saxophone solo of "Amazing Grace," and a military salute. He will be missed, but we know we will see him and his sax again.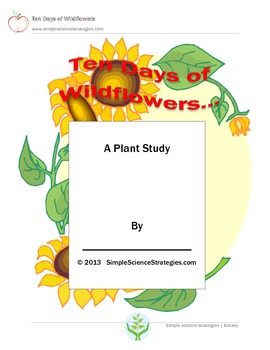 $1.95 for 24-page e-book - click here for ordering information.
Writing
I've been so busy with my new job that I have neglected blogging for awhile. But I just finished a new e-book,
Ten Days of Wildflowers,
that is perfect for a 10-day study of the wildflowers where you live. Check it out at Teachers Pay Teachers - only $1.95 for 24 pages (including lesson ideas - great for homeschool or elementary nature study).
What's I've Planned for October
I hope to get some garlic planted next month (we LOVE garlic around here), as well as take in our yard furniture. The front steps are scheduled to be demolished and replaced (woot! woot! New steps...). And somewhere there are a couple of bushels of apples just calling our name.
Member - Click to visit!
Have a blog? Join hundreds of other blogging women at
Bloggy Moms
' September Blog Hop -- let us know what you've been up to this month.
While you're at it, enter to win some FREE Purex UltraPacks at
Our Everyday Harvest.
Click on the image for details on how to enter.